Piezo Wave: Myofascial Acoustic Wave Therapy in Irving TX

Welcome to Ethos Medical, a leading Chiropractic healthcare provider based in Irving, TX. We specialize in providing innovative and effective medical treatments that promote healing and wellness. We offer Piezo Acoustic Wave Therapy in Irving TX, which has been shown to provide pain relief and promote tissue regeneration and healing for both acute injuries and Chronic conditions affecting the spine, joints, tendons, ligaments, and facia. Patients with scar tissue from repetitive motion, motor vehicle or sports injury, post-surgical, and neglect benefit from this amazing tool. We see amazing results with frozen shoulder, adhesive capsulitis, plantar fasciitis, golfer's and tennis elbow, and other soft tissue problems causing poor range of motion and pain.
---
Piezo Acoustic Wave Therapy in Irving TX
Piezo Acoustic Wave Therapy is a non-invasive treatment that uses high-frequency sound waves to stimulate the body's natural healing processes. It is a safe and effective alternative to traditional treatments that may involve surgery or medication. Our skilled and experienced healthcare professionals use the latest technology and techniques to provide the best possible outcomes for our patients.
At Ethos Medical, we understand that every patient is unique and requires individualized care. We take the time to understand your specific needs and develop a customized treatment plan that is tailored to your condition. Our goal is to help you achieve optimal health and wellness, so you can enjoy a better quality of life.
If you are seeking relief from pain or want to explore a non-invasive alternative to surgery, we encourage you to learn more about Piezo Acoustic Wave Therapy and how it may benefit you. Contact Ethos Medical today to schedule a consultation and take the first step toward a healthier, happier you.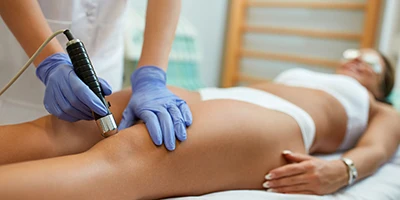 Schedule Your Consultation Today!